A question we are often asked is "how do we improve our internal customer experience and capabilities?"
Building a customer-centric organisation seems like a simple task. You prioritise your customers, collect their feedback on your services, build them into your business from the ground up and reap the rewards of greater customer satisfaction and retention.
However, with more than 50 billion connected devices active globally, the amount of data can be overwhelming. Turning that immense amount of multi-channel data into actionable business insights requires a company to build a specific set of customer capabilities.
In this month's newsletter we look at the six critical customer capabilities, what common questions they answer and which companies have already benefited from implementing them.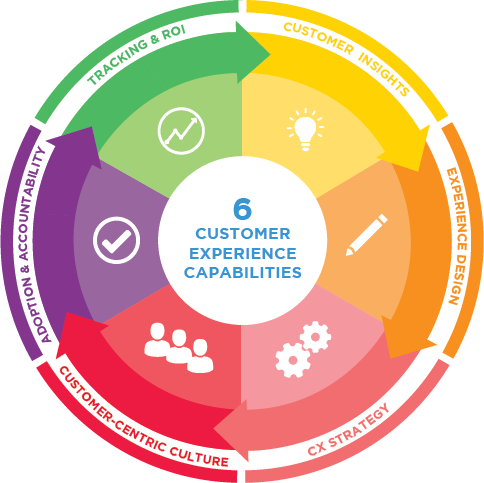 Capability 1. Voice of the customer (Voc), Customer Insight and Understanding
One of the common questions asked about customer centricity is "how do I collect customer data?" and it's also one of the most common mistakes. The key to generating customer insights is collecting the right data and having the capability to convert it into genuine customer insights.
Voc Essentials
Design and implement voice of customer programs, including unsolicited experience feedback from customers.
Identify and map significant customer touch-points in the customer experience.
Gather input from employees about customer experiences and opportunities for improvement.
Analyse VOC feedback drawn from sources to identify customer pain points and opportunities to improve and differentiate.
LEGO is an excellent example of the benefits of correctly implemented VOC. Their Mission to Space campaign provided the customer with the ability to create user-generated content based on their interests.

By allowing the customer to be part of their content ecosystem, LEGO ensured that they were meeting customer expectations and were able to translate customer interests into actionable design ideas.
Capability 2. Experience Design and Improvement
Generating and analysing the right feedback is just the start of the process; a recent survey found that 75% of companies are only collecting or analysing data without deriving actionable results.

Vital to building a customer-centric organisation is integrating customer insights with an agile experience design process, able to adapt to the changing needs for your customer base.
Experience Design Essentials
Establish and follow a well-defined design process each time an experience is created or changed.
Use customer insights to define and prioritise experience requirements and opportunities for improvement, while using journey mapping to improve most relevant moments of truth.
Assess, document, track, and report resolution of experience gaps across touch points.
Use iterative ideation and prototyping to engage customers and employees in the co-creation of enhanced or innovative experiences.
Our own experience with Optus corroborates this. During the design of their 'Future State Customer Strategy' we produced:


25 customer pathways - to provide detailed ideas and implementation
17 mindset shifts - to help Optus think differently
12 customer expectations - to ensure new products add value
8 personas - to help staff empathise with their different customers
8 design principles - to guide product and service development
An end to end lifecycle - that showed the Ideal Journey
A design manual - to help with future decision making
A portfolio - to help communicate the outcomes
Using our flexible design to plan future customer experiences allowed Optus to accelerate their ability to become Australia's most loved and recommended service brand.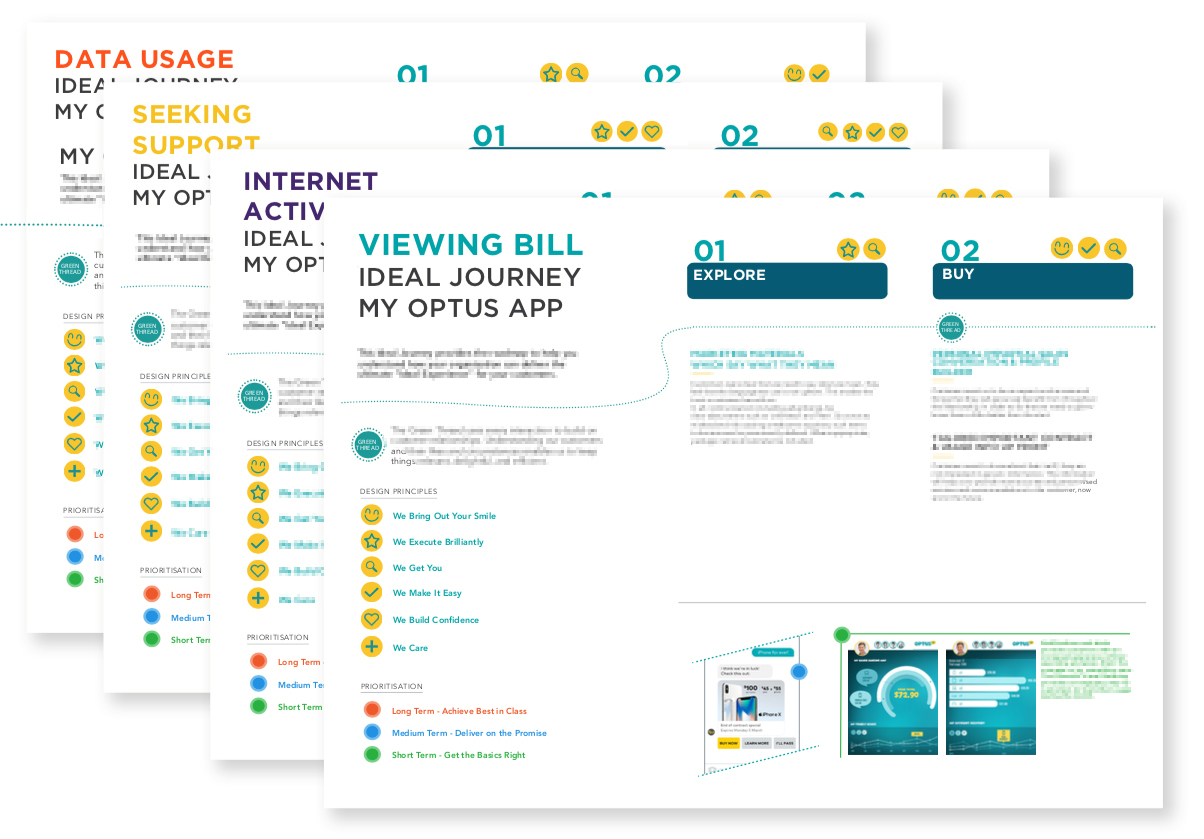 To download the comprehensive list of capabilities, click here.
Capability 3. Customer Experience Strategy (CES)
Essential to the development of an effective Customer Experience Strategy is the concept of granularity. Each customer journey is made up of multiple customer interactions, and each of those interactions requires a specific strategy.

Another critical factor is the human contact aspect. Despite the huge numbers of digital contact channels available, customers still value the human touch.

Integrating consistent human interaction into your Customer Strategy ensures customers feel as if they are being treated as an individual, leading to increased customer satisfaction and loyalty.
Customer Experience Strategy Essentials
Define a customer experience strategy that describes the intended customer experience, its linkage to overall corporate objectives, and its alignment with the organisation's brand values and attributes.
Develop experience principles and specific employee behaviours and interactions that reflect brand values and organisational mission.
Articulate the operating plan, investments, and tactics for programmatic components of the CEX (Customer Experience Management) strategy.
Communicate and engage employees at all levels of the organisation in the elements of the CEX strategy.
When designing Virgin Mobile's Customer Strategy, we were able to identify that, while each customer wanted to be treated as an individual, they also wanted consistency in their interactions. Our 30 actionable initiatives formed the basis of their new customer engagement model.
Capability 4. Customer-Centric Culture
Customer-centric companies are 60% more profitable than those without a customer-focused culture. So it's no surprise that it has become a buzzword.

What is surprising is the number of organisations that still make fundamental mistakes when trying to implement customer-centricity.

One of the most common is assuming that customer experience is only relevant to customer-facing roles. To build a genuinely customer-centric culture, there needs to be an emphasis on educating all employees on how they play a vital role in the customer experience.
Customer-Centric Essentials
Drive employee engagement and involvement — from the front lines to the executive suite.
Develop and deliver ongoing CEX interaction training to employees.
Develop communication strategies and tactics to share the importance of CEX with employees, customers, and the company.
Collect and share stories of CEX excellence at your company.
By developing a deep understanding of the typical end-to-end journey of Gumtree users, we were able to create an extensive package of customer-centric tools and reference materials. These tools allowed Gumtree staff, at all levels, to help build and deliver the ideal customer journey.

To download the comprehensive list of capabilities click here.
Capability 5. Organisational Adoption and Accountability
Having taken steps to put in place the framework of a customer-centric culture, it is vital to fuel ongoing confidence at all levels of the business.

Having clear first steps in the customer experience process allows team members to integrate new customer-centric initiatives with their other responsibilities.

Customer experience champions can evangelise customer-centricity while sharing compelling opportunities to ensure ongoing commitment.

By intrinsically linking staff to specific customer experiences, organisations can encourage emotional investment in CEX, leading to quicker adoption.
Adoption and Accountability Essentials
Align business goals with customer-focused culture
Maintain a dedicated list of top customer experience improvements, including which senior executive is accountable for resolution
Embed customer experience impact as a criterion for all business and investment decisions and Regularly review CEX metrics and feedback at all levels of the organisation.
Introduce new processes and tools to improve customer experience
To effect a strategic overview of Sydney Water's ideal on boarding experience, Proto Partners produced a roadmap of prioritised initiatives. This clarified the steps required to implement a more customer-centric culture, making adoption of the initiatives quicker and easier.
Capability 6. Metrics, Measurements and ROI (Return On Investment)
An essential step to maintaining momentum in customer-centric initiatives is the accurate capture and measurement of CEX data.

Linking the effects of a customer-centric culture with business outcomes emphasises the benefits of CEX, leading to continued confidence in the initiatives.

Through the identification and analysis of CEX metrics, businesses can gain ongoing insightsinto customer needs and translate those into positive adjustments to the customer's journey.
Metrics, Measurement and ROI Essentials
Develop infrastructure and mechanisms to capture CEX data and identify key CEX metrics for tracking experience quality, satisfaction, and loyalty.
Develop framework and linkage of improved experiences to business outcomes.
Analyse and interpret results to derive customer insights and performance trends.
Report results, insights, and recommended actions to improve.
Proto Partners led a recent NSW Government client through their first series of human-centred design workshops for their transformation program. The outcome of the prototyping has been exceptional:
Customer Impact (CX) 94% of all service requests are communicated within 5 days (previously 25%)
Process Impact – time to decision 95% of Low Risk service requests are now communicated same day – 82% improvement (from 52% to 95%)
Policy impact (DMF) Applying the DMF enabled 81% of service requests to be classified as Low – this is an improvement from 56%
DDC Customer Liaison Tracking to significant reductions in approval times (down from 62 days to 21 days for 38%)

Their Program Director goes on to say:

"The icing on the cake for me was that Proto Partners captured all of the insights from the customer workshops into an organisational asset that we now use as an integral part of our toolkit for training and briefing new team members."

This demonstrates the importance of building internal frameworks and an engaged workforce. A service we are seeing increased appetite for. As such we have developed a new product that helps internal teams build their CX skills and capabilities through a structured 6/12 month program that:
Conducts a CX capability audit
Delivers monthly in-person training/capability workshops
Provides online access to over 70 different research/ideation/prioritisation CX tools
Provides Visual Design resource to bring your internal CX programs to life.
Understand your organisation's Customer Experience (CX) maturity, how we undertake CX Assessment's and the benefits it delivers including real examples of Australian organisations that we have conducted CX Maturity Assessment's for, here.

Call us on 02 8379 6600 to find out how we can help your organisation deliver outstanding customer experience.