I really thought this was perfect sense and showed a good understanding of human behaviour or in this case challenges. Simple, elegant and effective — all things that good Service Design should be.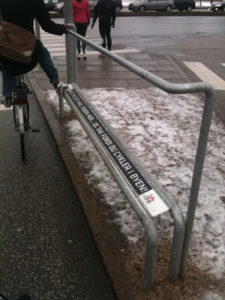 Check the railings that the man is holding onto and resting his foot on. It's located on a little Copenhagen traffic island where cyclists often wait, reports Copenhagenize.com.
The City of Copenhagen has implemented this double railing simply as a convenience for the cyclists who stop here. A high railing to grasp with your hand and a foot railing for putting your foot up, if that's what you fancy doing. Either way you can also use the railing to push off when the light changes.
The foot rest reads: "Hi, cyclist! Rest your foot here... and thank you for cycling in the city."
It certainly is a fine example of the City understanding human behaviour and basic anthropology.