Read time : 3 Minutes
What if someone could offer you three simple lenses that would help you quickly and easily prioritise your growth efforts?
Introducing the Desirability, Feasibility, Viability Tool. Introduced as part of Design Thinking over a decade ago, its a stunningly simple method to help prioritise growth activities.
The more familiar something becomes, the more likely you will take it for granted. So let's take a fresh look at this brilliantly simple approach to growth and improvement.
Let's dive in.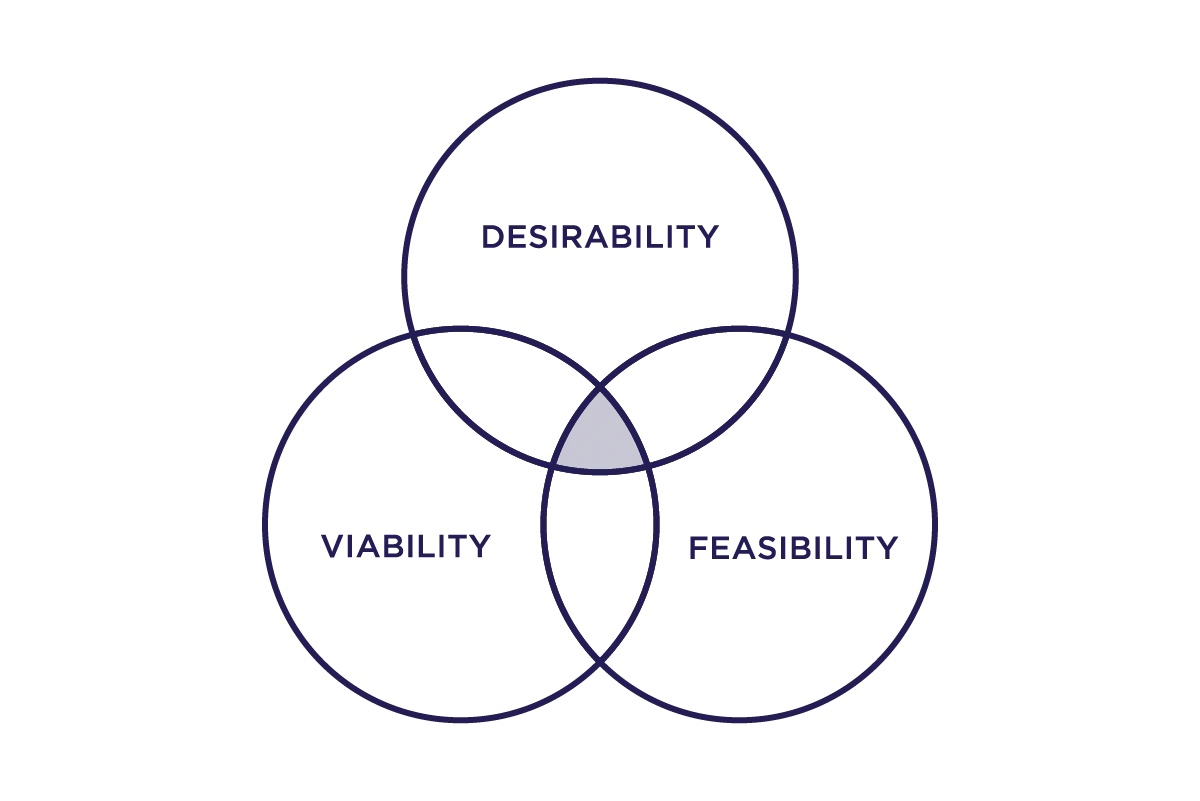 What's Design Thinking?
Design thinking is a problem-solving approach that incorporates creativity, empathy, and analytical thinking to develop innovative solutions.
The three main components of design thinking are:
Understanding and defining the problem
Generating ideas that will deliver tangible value
Implementation or putting the ideas into action
So often, you know exactly what your customer wants, what you physically can do or what is commercially viable. But, by considering each in isolation, it's difficult to regularly make successful business decisions.
And that's because each element needs to be balanced against the other.
So what parts form the equation?
Desirability
Desirability relates to the question, "Will anyone want to buy this product?"
Feasibility
Feasibility relates to the question, "Can we make this product?"
Viability
Viability relates to the question, "Is this product commercially viable?"
Scenario 1 D+, F+, V-
If you produce a product that your customers want to buy and you can supply it, but makes no money, it's not commercially viable for you to invest the time and effort. (There are always some ethical exceptions to this rule)
We worked with an online financial services company. They had received feedback from their customers who said that they wanted more personal/human support during the online application.
It was desirable because of the feedback
It was feasible because they had the technology to provide that support
But It wasn't viable to start providing personalised support across every application, given they were receiving 50-100 applications per day.
It didn't mean that we just ignored the customer's needs. We still needed to help them through the process, we needed to find a financially viable support system.
To do this we had to understand the core issues the customer was facing. And as it turned out when you dug a little deeper, the best solution they could offer was "use humans".
Key Takeaway
Customers are brilliant at uncovering problems, not always good at coming up with the best solutions.
So by taking the problem they gave us and with better design, simplification and reallocating some steps in the process to a different time, we were able to provide a digital concierge service that solved the customer's needs (without the need for humans).
Scenario 2 D+, F-, V+
You have a product or service that your customers want to buy from you and would make financial sense, but you can't operationally deliver it, it should be a no-go.
We were engaged by Transport for NSW to help design the customer experience for the launch of the Sydney Metro. The challenge they faced was how to get people to stop driving to the city from the Northwest of Sydney and start catching the Metro instead. They had been driving forever!
We wanted to help Transport for NSW to get as many people as possible to the train station but there was only so much parking at each Metro station (500 spots) and they needed tens of thousands of commuters to make the project viable.
We came up with an idea to utilise unused sporting grounds and stadiums with lots of parking spaces closely located to the Metro. People could park there and then catch a bus from those locations straight to the Metro. This opened up a brand new ecosystem of parking.
It was desirable because you could park close to home and a bus would have taken you there.
It was viable because we had the budget.
However, it wasn't feasible to go park at a local sports oval, walk to a bus stand, catch a large-scale bus and then catch the Metro.
So instead, we suggested using minibuses that could fit 25 people. These minibuses could be sent to people's houses or general areas and then transport the commuters directly to the metro station.
It was desirable to be picked up from your house and taken directly to the train station
It was viable because we had the budget
It was feasible because mini buses were far more able to navigate smaller streets than large-form buses.
Scenario 3 D-, F+, V+
Your business has an idea that's both financially viable and feasible but your customers don't want it, it's also going to be a non-starter.
We worked with a client who wanted to make it easier for their customers to order equipment from them. They came up with the idea of developing an app where customers could order equipment straight from their phone.
It was viable because it wasn't expensive to build it
It was feasible because they had the technological capability
It wasn't desirable because customers didn't want to use an app. There are only so many apps that you want on your phone. Too many apps use storage, which makes the home screen cluttered and slows the software. And in this instance they had a perfect;y good ordering system that worked flawlessly.
Given that there was no inherent customer desirability, it wasn't an avenue that they pursued further. As Steve Jobs was fond of saying, just because you can, doesn't mean you should.
Target Scenario D+, F+, V+
The Design Thinking tool is a balancing act of the above three elements.
The 'sweet spot' is where all three areas of the Venn diagram overlap. This is the area in which you will find a commercially viable and desirable product that is also feasible to produce.
It's important to remember that the design thinking process is not linear, it's cyclical. The key is to embrace iterations and continue to challenge your original assumptions.
When you're done, you should have a product/service that is:
Desirable: Wanted by your target market
Feasible: Can be created
Viable: Makes business sense
Use the three lenses next time you start generating solutions, you will be amazed how quickly it helps you prioritise your resources.
Catch you next week.