Ever wanted to do more with less? In complex organisations, there is both too much and not enough. Too many ideas, opinions and inertia. Not enough agreement, traction and growth.
It's difficult to get everyone on the same page. It's even more difficult to get everyone on the same page focused on your customers, without getting distracted on programs that while on the surface appear to be worthwhile, often on closer inspection don't really add value to your customers and your business.
With so much change, organisations and their people are required to think and operate differently in the 21st century. Why? The world is complex. People are even more complex. Configuring a business for learning, flexibility and adaptability to meet the rapidly changing demands and expectations of customers is challenging. 
There was a recent challenging report from KPMG which reviewed Superannuation Funds that have enjoyed significant inflows for the last few decades. Although it was focused on Super Funds, it's relevant for a large number of financial services businesses.
It predicted that Retail Super funds would be facing a mass of outflows in the coming year, with members set to march toward their lower-fee Industry Fund rivals.
The study labelled a call to action for the insurance and wealth sectors, finding that close to a quarter of Retail Super Fund members were likely to switch funds in the coming 12 months, compared with less than 10 percent of Industry Fund members.
The rising pressure on Retail Funds comes despite satisfaction levels across both Retail and Industry funds sitting at around 60 percent. The better value provided by the lower-fee Industry Funds was one reason members may make the switch.
It made me reflect on our experience working with a number of Super Funds and Financial Services businesses. Many Superannuation Funds have lost the art of truly engaging with their members and creating a place where customers feel truly valued. 
And why is that?
The more time we spent with organisations, the more we understood that what is broken for customers is often a reflection of what's not working internally. And even then, it's hard to get an organisation excited about the opportunity, especially when they know how hard it is to get everyone on the same page. The solution is about getting to the heart of your world and your customers. Then aligning the two. It makes the difference between what it is... and what is possible. When organisations are providing services and support and engaging with their customers in a way that they value and makes them feel valued, they will stay and won't go looking elsewhere for a better experience to be provided for their money.
But what are those things that customers truly value and make them feel valued? Often, we find in organisations that many have strongly held but differing opinions on what those things actually are. As these opinions get thrown around in meetings, there can be little agreement or a focus on one given idea, which might not be the right one to deliver true value to customers. So how do you determine and reach an agreement on the right things to do for your customers now, next and later? 
Customer Thinking is the Proto approach to customer understanding that can be easily translated into the realities of your business. 
Customer Thinking shows you what the quantitative data on its own can't.

It provides insight and clarity on what to do.

It validates the answer with your staff and customers.

It allocates resources that get the biggest bang for your buck. 

And it drives the buy-in from the business to deliver it. 
Suddenly, everyone's on the same page.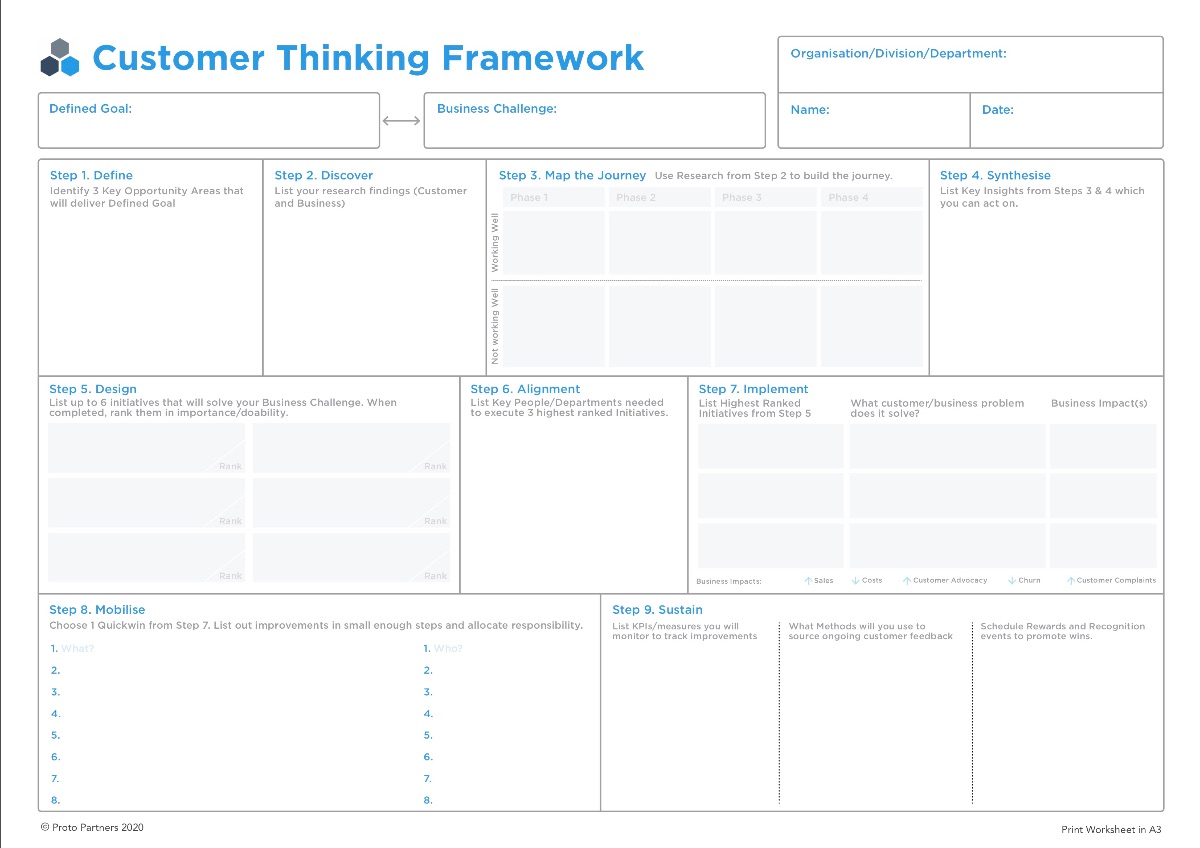 Would you like a simple and structured worksheet to help you get from A to B? Try our Customer Thinking worksheet. Print it out, fill it out, and use it as a place to start to transform your customer understanding into customer growth.
It will help you gain clarity on what it is your customers truly value ...and don't.
It will give you the confidence to start solving what we call the 4 P's - People, Policy, Processes and Procedures.
Then you will have the opportunity to increase organisational commitment by hooking up your internal KPI's to support delivery - behaviour follows KPI's.